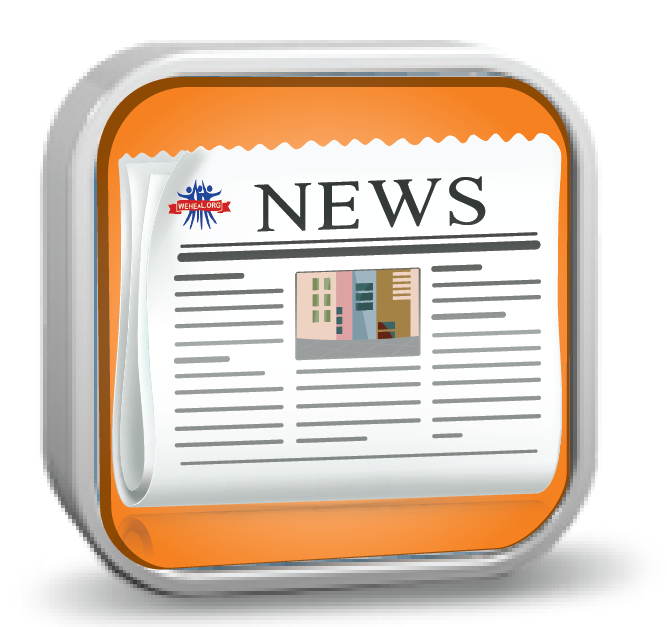 7-08-2017 July 2017 Newsletter: 2017 has been an amazing year, with Eric being featured on the cover of the Los Gatos Living Magazine and the Jr League of San Jose awarding Eric the Crystal Bowl Award for the Volunteer of the Year Luncheon…

Eric Drew wins Crystal Bowl Award at the Jr. League's 48th Annual Volunteer Recognition luncheon. The San Jose Jr. League recognized volunteers for extraordinary work in the community. This video summarizes Eric's work and dedication to CrowdHealing and creating central global advocate communities for all diseases to support and help patients identify the most advanced treatments for their disease.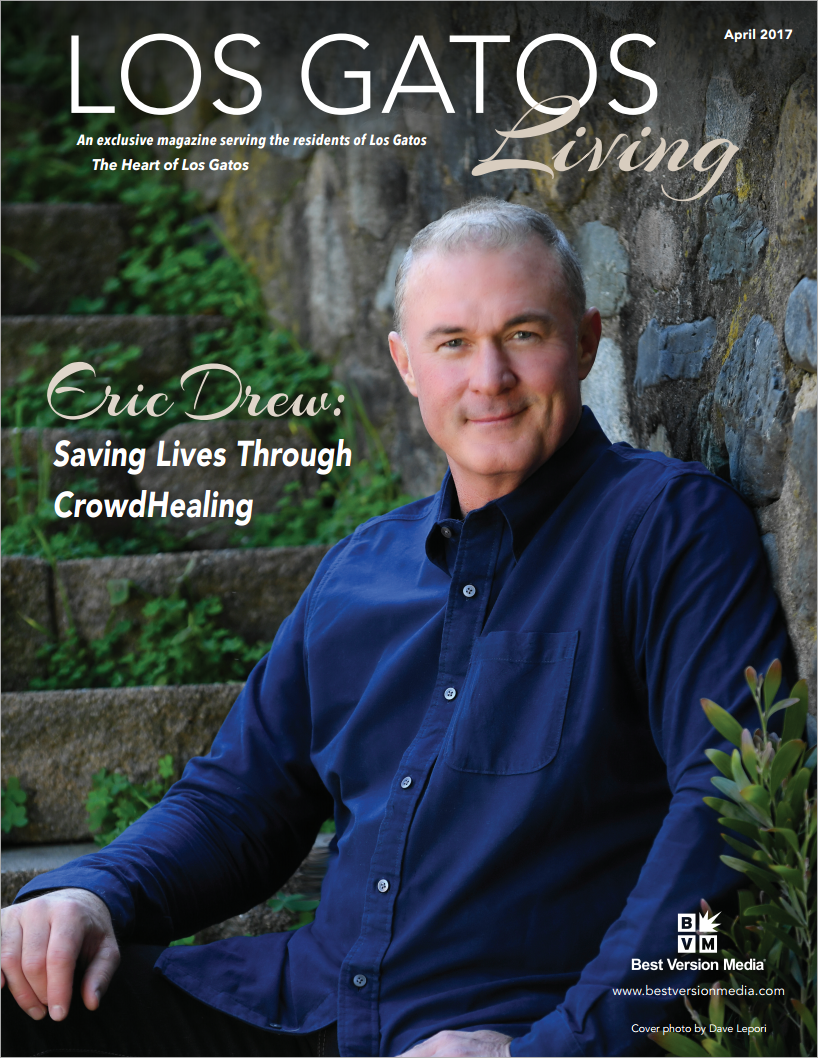 4-10-2017 Eric Drew is featured on the cover of Los Gatos Living Magazine. See the story here !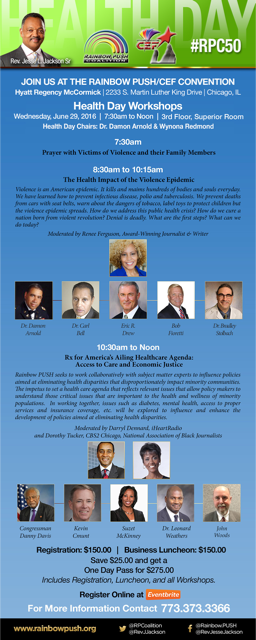 4-21-2016 Eric Drew was a Featured Speaker in Chicago at Jesse Jackson famous Rainbow PUSH Coalition Convention. Eric was invited to speak about CrowdHealing and how it is leveling the playing field in medicine and creating more equal access to the most advanced treatments. ….
FOR IMMEDIATE RELEASE June 28, 2016
Contact: Hope Daniels at 773-953-5214
ERIC DREW IS AVAILABLE FOR MEDIA INTERVIEWS WHILE IN CHICAGO FOR THE RAINBOW PUSH COALITION ANNUAL INTERNATIONAL CONVENTION
WHO
Eric Drew is the founder of the "CrowdHealing Movement" at www.WeHeal.org. Based in Silicon Valley, California, Eric is a dedicated consumer medical advocate and expert on patient treatment strategies and research techniques. Eric is a leukemia and stem cell transplant survivor. He is an internationally recognized speaker, writer and has presented at national and international conferences. Eric is former Silicon Valley software vice president, entrepreneur and startup angel investor and the first patient to catch and successfully prosecute a hospital worker identity thief under the United States Health Insurance Portability and Accountability Act (HIPA) the patient privacy act.
WHY
Eric is in Chicago this week to speak at the Rainbow PUSH Coalition and Citizenship Education Fund Annual International Convention. He will discuss the impact of the CrowdHealing Movement on global health care.
» show more
WHEN
Eric is available in Chicago this week (June 28, 29 and 30) for questions and interviews about the launch of the CrowdHealing Movement and how he plans to save one million lives in the next five years. Your audience will appreciate hearing about his miraculous survival from an experimental stem cell transplant.
POSSIBLE QUESTIONS FOR ERIC DREW
1) How can having access to a patient/advocate network raise the quality of healthcare globally?
2) What strategies did you utilize to survive a one hundred percent terminal diagnosis?
3) How does the CrowdHealing Movement plan to save one million lives in the next five years?
If you or someone you love has ever been affected by a Health Issue, you won't want to miss this Event! We hope to see you there! For more information please go to: WeHeal.org or to the Leslie Jean Porter Gallery Facebook page.
» show less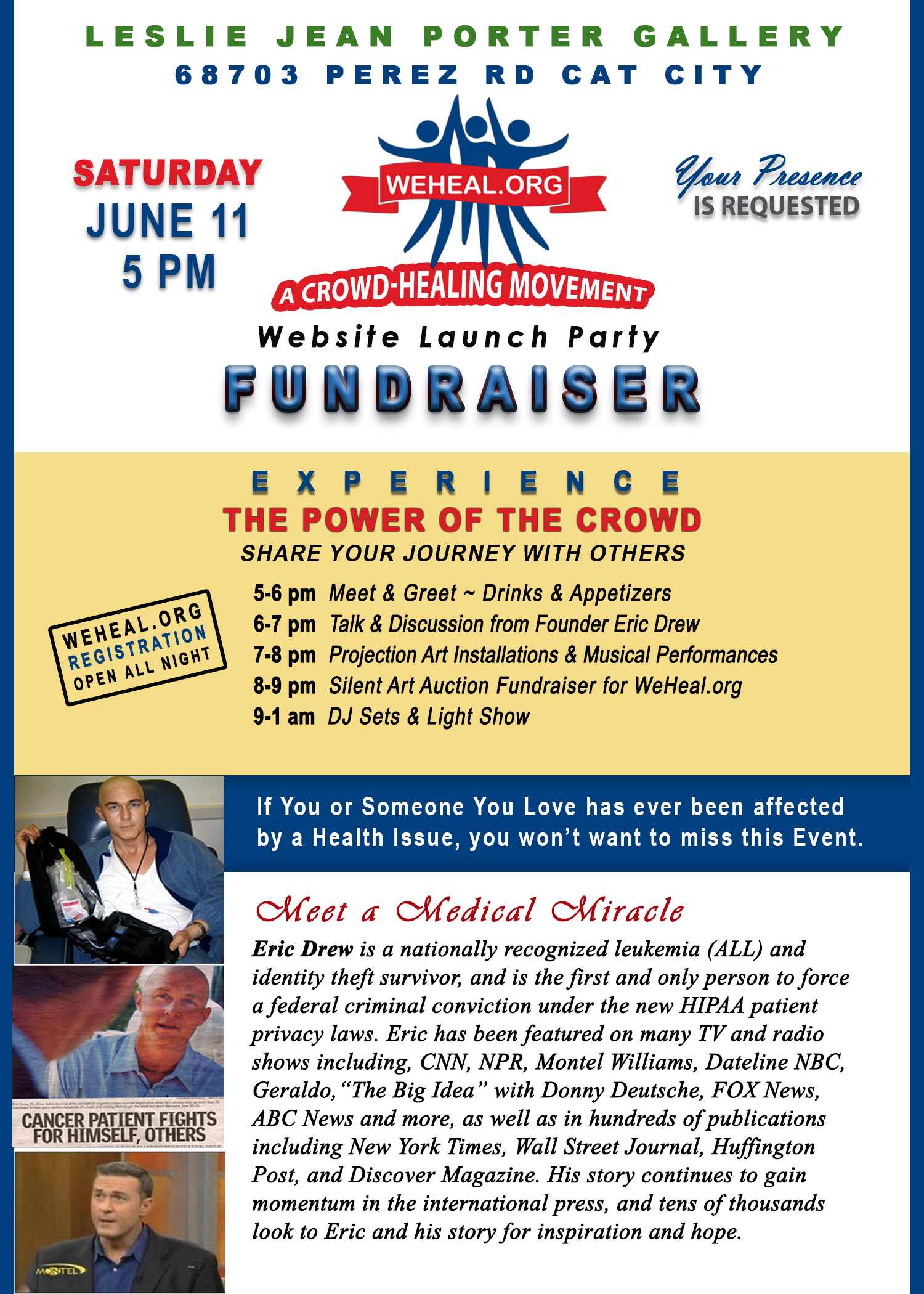 4-21-2016 This Saturday ERIC DREW SPEAKS LIVE!!!!
FOR RELEASE June 6, 2016
Media Contact: paladin.wk11paladin.wk11@gmail.com, or tiffany@tiffanykayromney.com
Eric Drew, the Founder of the new CrowdHealing Movement and Website WeHeal.org is coming to the desert to share his vision, this Saturday, June 11 at 5 pm at the Leslie Jean Porter Gallery at 68703 Perez Rd in Cathedral City.
Eric Drew, recognized internationally as a Modern Medical Miracle after being one of the first adults to survive a stem cell transplant from umbilical cords, will introduce his game-changing Crowd-Healing Movement at WeHeal.org to the desert communities. He will be sharing his incredible journey of how he survived Acute Leukemia (ALL), after being told by every hospital in the US that nothing could be done, and how he plans to share this survival strategy with everyone and save millions of lives through WeHeal.org.
» show more
Eric has been featured on many TV and radio shows including, CNN, NPR, Montel Williams, Dateline NBC, Geraldo, "The Big Idea" with Donny Deutsche, FOX News, ABC News and more, as well as in hundreds of publications including New York Times, Wall Street Journal, Huffington Post, and Discover Magazine. His story continues to gain momentum in the international press, and tens of thousands look to Eric and his story for inspiration and hope.
About WeHeal.org
Everyday millions of people around the world are being diagnosed with similar diseases, leaving them faced with critical decisions that they must make. The information they receive is usually limited or overly complex, and most feel overwhelmed and are in shock. By bringing these people together to support each other and to share their experiences and knowledge about the latest treatment options, WeHeal.org is driving healthcare to a new level and giving hope to those in despair. Now with WeHeal.org, patients, families, advocates, and caregivers have a community they can join to immediately start networking and sharing information. WeHeal.org also features strategic guides which will walk patients through specific steps designed to maximize their chances of success and survival.
Eric invites the public and medical professionals to attend this event, as it will give them an opportunity to register on WeHeal.org and learn more about his Foundation's decade long effort to advocate for patients with strategy guides and disease specific assistance. WeHeal.org's Patient Communities will provide anyone confronted with a chronic or terminal illness with a turnkey support network and a place to seek the latest treatment information from others who are fighting the same fight.
Mr. Drew will begin the evening with a talk about his experiences and what transpired to keep him alive today. He will explain the concept and strategies behind WeHeal.org and how people can participate in the community. As this is a fundraiser, there will be a Silent Art Auction with a percentage of proceeds going to WeHeal.org.
Guests can view and bid on some incredible works of art from both established and up-and-coming artists: Carlos Wahlbeck, Leslie Jean Porter, Peter Mikulak, Atheena Romney, Carey Ann Mitchell, and Denise Beaumont. There will be a several artist projection shows including one from Mikey Reed from Love Light Productions, who will be illuminating the musical sets. Guests can enjoy live performances by musician, Dani Ivory, as well as DJ sets from: J. Infexus, Smokescreen & Slow Jackson, Loch Jah & the Paladin.
Appetizers and drinks will be offered. There will be giveaways and a raffle with prizes donated by our local businesses. This event is for anyone believing in, "The Power of the Crowd."
If you or someone you love has ever been affected by a Health Issue, you won't want to miss this Event! We hope to see you there! For more information please go to: WeHeal.org or to the Leslie Jean Porter Gallery Facebook page.
Prepared by: Atheena M. Romney at WeHeal.org
» show less

  4-21-2016
WeHeal.org Launches CrowdHealing Website
Revolutionary New Patient/Family Resource
LOS GATOS, Calif., April 21, 2016 /PRNewswire/ — Every day millions of people around the world are diagnosed with devastating diseases and are forced to try and figure out what to do on their own, each person reinventing the wheel as they go. The information they receive is usually limited, overly complex, and most are overwhelmed and left feeling hopeless. www.WeHeal.org, intends to change all of that by bringing patients together to support each other and to share their experiences and knowledge about treatment options. According to Eric Drew, Founder of the Eric Drew Foundation and WeHeal.org, "WeHeal.org is the world's first CrowdHealing movement. Putting the knowledge and decision making power back into the hands of patients and engaging them to work together, to heal together." READ MORE

6-01-2016
CFH Announces Partnership with WeHeal.org
Alliance with CrowdHealing Website Puts Health and Wellness on Your Side