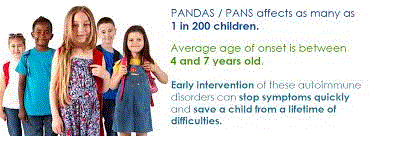 Please Visit and Join the WeHeal PANDAS Community
Information and References: PANDAS Network website | Medicine.net | Parents.com | Wikipedia | NIH | RightDiagnosis.com
Clinical trials: Clinicaltrials.gov | In Clinical Trials | EU Clinical Trials Register | WeHeal Guide to Researching Clinical Trials
Patient Resources and Related Organizations: PandaNetwork.org
News and Media: News-Medical.net
PANDAS (Pediatric Autoimmune Neuropsychiatric Disorders Associated with Streptococcal Infections) occurs when strep triggers a misdirected immune response results in inflammation on a child's brain. In turn, the child quickly begins to exhibit life changing symptoms such as OCD, anxiety, tics, personality changes, decline in math and handwriting abilities, sensory sensitivities, restrictive eating, and more.
PANDAS Network estimates that PANDAS/PANS affects as many as 1 in 200 children.
Please Visit and Join the WeHeal PANDAS Network Discussion Page
---
WeHeal is very grateful to our valued sources of information which include Wikipedia, WebMD, ClinicalTrials.gov, Cancer.gov, Infoplease, and the US CDC (Center for Disease Control).