Visit and Join the WeHeal Colon Cancer Community
For more information, see: Wikipedia | WebMD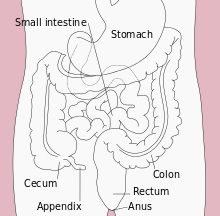 Colorectal cancer (also known as colon cancer, rectal cancer or bowel cancer) is the development of cancer in the colon or rectum (parts of the large intestine). It is due to the abnormal growth of cells that have the ability to invade or spread to other parts of the body. Signs and symptoms may include blood in the stool, a change in bowel movements, weight loss, and feeling tired all the time.
Visit and Join the WeHeal Colon Cancer Community
For more information, see: Wikipedia | WebMD
---
WeHeal is very grateful to our valued sources of information which include Wikipedia, WebMD, ClinicalTrials.gov, Cancer.gov, Infoplease, and the US CDC (Center for Disease Control).