Visit and Join the WeHeal Diverticulitis Community.
For more information, see: Mayo Clinic | Wikipedia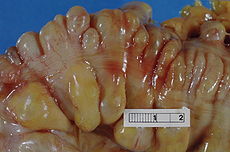 Search Clinical Trials
Diverticulitis is a common digestive disease which involves the formation of pouches (diverticula) within the bowel wall. This process is known as diverticulosis, and typically occurs within the large intestine, or colon, although it can occasionally occur in the small intestine as well. Diverticulitis results when one of these diverticula becomes inflamed.
People often have left lower quadrant abdominal pain and tenderness, fever, and an increased white blood cell count. They may also complain of nausea or diarrhea; others may be constipated. The severity of symptoms depends on the extent of the infection and complications. Less commonly, an individual with diverticulitis may have right-sided abdominal pain. This may be due to the less common right-sided diverticula or a highly redundant sigmoid colon. Some patients report bleeding from the rectum.
The cause of diverticulitis is unknown. About 40% of the risk of disease is believed to be due to genetics while 60% is due to environmental factors. Obesity is another risk factor.
It is unclear what role dietary fiber plays in diverticulitis. It is often stated that a diet low in fiber is a risk factor; however, the evidence to support this is unclear.
There is no evidence to suggest that the avoidance of nuts and seeds prevents the progression of diverticulosis to an acute case of diverticulitis. It appears in fact that a higher intake of nuts and corn could help to avoid diverticulitis in adult males.
Diverticulitis is believed to develop due to changes inside the intestines including high pressures due to faulty contracting of the intestines.
Most people with diverticulosis do not have any discomfort or symptoms; however, symptoms may include mild cramps, bloating, and constipation. Other diseases such as inflammatory bowel disease (IBD) and stomach ulcers cause similar problems, so these symptoms do not always mean a person has diverticulosis
Visit and Join the WeHeal Diverticulitis Community.
For more information, see: Mayo Clinic | Wikipedia
---
WeHeal is very grateful to our valued sources of information which include Wikipedia, WebMD, ClinicalTrials.gov, Cancer.gov, Infoplease, and the US CDC (Center for Disease Control).