Visit and Join the WeHeal Hypertension Community
For more information, see: Wikipedia | MayoClinic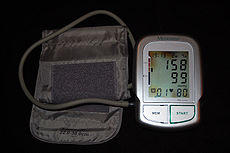 Hypertension (HTN or HT), also known as high blood pressure or arterial hypertension, is a chronic medical condition in which the blood pressure in the arteries is elevated. Blood pressure is expressed by two measurements, the systolic and diastolic pressures, which are the maximum and minimum pressures, respectively, in the arterial system. The systolic pressure occurs when the left ventricle is most contracted; the diastolic pressure occurs when the left ventricle is most relaxed prior to the next contraction. Normal blood pressure at rest is within the range of 100–140 mmHg systolic and 60–90 mmHg diastolic. Hypertension is present if the blood pressure is persistently at or above 140/90 millimeters mercury (mmHg) for most adults; different criteria apply to children.
Hypertension usually does not cause symptoms initially, but sustained hypertension over time is a major risk factor for hypertensive heart disease, coronary artery disease,stroke, aortic aneurysm, peripheral artery disease, and chronic kidney disease.
Hypertension is classified as either primary (essential) hypertension or secondary hypertension. About 90–95% of cases are categorized as primary hypertension, defined as high blood pressure with no obvious underlying cause. The remaining 5–10% of cases are categorized as secondary hypertension, defined as hypertension due to an identifiable cause, such as chronic kidney disease, narrowing of the aorta or kidney arteries, or an endocrine disorder such as excess aldosterone, cortisol, or catecholamines.
Dietary and lifestyle changes can improve blood pressure control and decrease the risk of health complications, although treatment with medication is still often necessary in people for whom lifestyle changes are not enough or not effective. The treatment of moderately high arterial blood pressure (defined as >160/100 mmHg) with medications is associated with an improved life expectancy. The benefits of treatment of blood pressure that is between 140/90 mmHg and 160/100 mmHg are less clear, with some reviews finding no benefit and other reviews finding benefit
Visit and Join the WeHeal Hypertension Community
For more information, see: Wikipedia | MayoClinic
---
WeHeal is very grateful to our valued sources of information which include Wikipedia, WebMD, ClinicalTrials.gov, Cancer.gov, Infoplease, and the US CDC (Center for Disease Control).