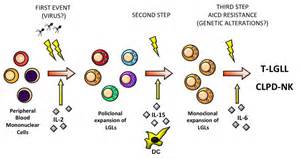 Please Visit and Join the WeHeal LGL Leukemia Community
Information and References: Wikipedia | NIH
Patient Resources and Related Organizations: Leukemia and Lymphoma Society
News and Media: News-Medical.net
Clinical trials: Clinicaltrials.gov | In Clinical Trials | EU Clinical Trials Register | WeHeal Guide to Researching Clinical Trials
Search Clinical Trials
Large granular lymphocyte (LGL) leukemia is a rare cancer of a type of white blood cells called lymphocytes. LGL leukemia causes a slow increase in white blood cells called T lymphocytes, or T cells, which originate in the lymph system and bone marrow and help to fight infection. This disease usually affects people in their sixties. Symptoms include anemia; low levels of platelets (thrombocytopenia) and infection-fighting neutrophils (neutropenia) in the blood; and an enlarged spleen. About one-third of patients are asymptomatic at the time of diagnosis. The exact cause of LGL leukemia is unknown. Doctors can diagnose this disease through a bone marrow biopsy, or by using a specialized technique in which various types of blood or bone marrow cells are separated, identified, and counted.[1]
Please Visit and Join the WeHeal LGL Leukemia Community
---
WeHeal is very grateful to our valued sources of information which include Wikipedia, WebMD, ClinicalTrials.gov, Cancer.gov, Infoplease, and the US CDC (Center for Disease Control).