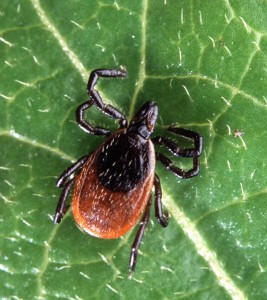 Visit and Join the WeHeal WeHeal Lyme Disease Community
For more information, see: Mayo Clinic | Wikipedia
Lyme disease, also known as Lyme borreliosis, is an infectious disease caused by bacteria of the Borrelia type. The most common sign of infection is an expanding area of redness, known as erythema migrans, that begins at the site of a tick bite about a week after it has occurred. The rash is typically neither itchy nor painful. About 25% of people do not develop a rash. Other early symptoms may include fever, headache, and feeling tired. If untreated, symptoms may include loss of the ability to move one or both sides of the face, joint pains, severe headaches with neck stiffness, or heart palpitations, among others. Months to years later, repeated episodes of joint pain and swelling may occur. Occasionally, people develop shooting pains or tingling in their arms and legs. Despite appropriate treatment, about 10 to 20% of people also develop joint pains, have problems with memory, and feel tired much of the time.
Lyme disease is transmitted to humans by the bite of infected ticks of the Ixodes genus. Usually, the tick must be attached for 36 to 48 hours before the bacteria can spread. In North America, the only bacterium involved is Borrelia burgdorferi sensu stricto, while in Europe and Asia, the bacteria Borrelia afzelii and Borrelia garinii are also causes of the disease. The disease does not appear to be transmissible between people, by other animals, or through food. Diagnosis is based upon a combination of symptoms, history of tick exposure, and possibly testing for specific antibodies in the blood. Blood tests are often negative in the early stages of the disease. Testing of individual ticks is not typically useful.
Prevention includes efforts to prevent tick bites such as by wearing long pants and using DEET. Using pesticides to reduce tick numbers may also be effective. Ticks can be removed using tweezers. If the removed tick was full of blood, a single dose of doxycycline may be used to prevent development of infection, but is not generally recommended since development of infection is rare. If an infection develops, a number of antibiotics are effective, including doxycycline, amoxicillin, and cefuroxime. Treatment is usually for two or three weeks. Some people develop a fever and muscle and joint pains from treatment which may last for one or two days. In those who develop persistent symptoms, long-term antibiotic therapy has not been found to be useful.
Visit and Join the WeHeal WeHeal Lyme Disease Community
For more information, see: Mayo Clinic | Wikipedia
---
WeHeal is very grateful to our valued sources of information which include Wikipedia, WebMD, ClinicalTrials.gov, Cancer.gov, Infoplease, and the US CDC (Center for Disease Control).