Visit and Join the WeHeal Merkel-Cell Carcinoma Community
For more information, see: MayoCLinic | Wikipedia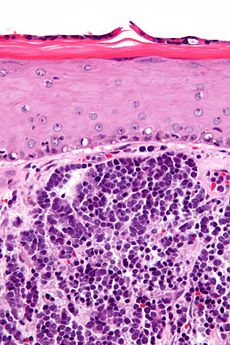 A rare type of skin cancer that usually appears as a flesh-colored or bluish-red nodule, often on your face, head or neck. Merkel cell carcinoma is also called neuroendocrine carcinoma of the skin.
Visit and Join the WeHeal Merkel-Cell Carcinoma Community
For more information, see: MayoCLinic | Wikipedia
---
WeHeal is very grateful to our valued sources of information which include Wikipedia, WebMD, ClinicalTrials.gov, Cancer.gov, Infoplease, and the US CDC (Center for Disease Control).