Visit and Join the WeHeal Prosthetic Arms Community
For more information, see: WebMD | Wikipedia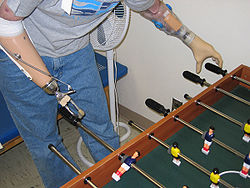 In medicine, a prosthesis (plural: prostheses; from Ancient Greek prósthesis, "addition, application, attachment" is an artificial device that replaces a missing body part, which may be lost through trauma, disease, or congenital conditions. Prosthetic amputee rehabilitation is primarily coordinated by a prosthetist and an inter-disciplinary team of health care professionals including psychiatrists, surgeons, physical therapists, and occupational therapists.
A person's prosthesis should be designed and assembled according to the patient's appearance and functional needs. For instance, a patient may need a transradial prosthesis, but need to choose between an aesthetic functional device, a myoelectric device, a body-powered device, or an activity specific device. The patient's future goals and economical capabilities may help them choose between one or more devices.
Craniofacial prostheses include intra-oral and extra-oral prostheses. Extra-oral prostheses are further divided into hemifacial, auricular (ear), nasal, orbital and ocular. Intra-oral prostheses include dental prostheses such as dentures, obturators, and dental implants.
Prostheses of the neck include larynx substitutes, trachea and upper esophageal replacements,
Somato prostheses of the torso include breast prostheses which may be either single or bilateral, full breast devices or nipple prostheses.
Limb prostheses include both upper- and lower-extremity prostheses.
Upper-extremity prostheses are used at varying levels of amputation: forequarter, shoulder disarticulation, transhumeral prosthesis, elbow disarticulation, transradial prosthesis, wrist disarticulation, full hand, partial hand, finger, partial finger.
A transradial prosthesis is an artificial limb that replaces an arm missing below the elbow. Two main types of prosthetics are available. Cable operated limbs work by attaching a harness and cable around the opposite shoulder of the damaged arm. The other form of prosthetics available are myoelectric arms. These work by sensing, via electrodes, when the muscles in the upper arm move, causing an artificial hand to open or close. In the prosthetic industry a trans-radial prosthetic arm is often referred to as a "BE" or below elbow prosthesis.
Visit and Join the WeHeal Prosthetic Arms Community
For more information, see: WebMD | Wikipedia
---
WeHeal is very grateful to our valued sources of information which include Wikipedia, WebMD, ClinicalTrials.gov, Cancer.gov, Infoplease, and the US CDC (Center for Disease Control).