Visit and Join the WeHeal Sickle Cell Anemia
For more information, see: MayoClinic | Wikipedia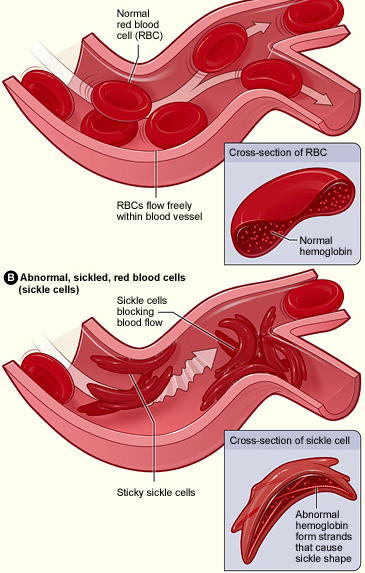 "Sickle cell anemia is an inherited form of anemia — a condition in which there aren't enough healthy red blood cells to carry adequate oxygen throughout your body.
Normally, your red blood cells are flexible and round, moving easily through your blood vessels. In sickle cell anemia, the red blood cells become rigid and sticky and are shaped like sickles or crescent moons. These irregularly shaped cells can get stuck in small blood vessels, which can slow or block blood flow and oxygen to parts of the body.
Treatments can relieve pain and help prevent further problems associated with sickle cell anemia. Bone Marrow or Cord Blood Transplants could be used to cure patients but are almost never offered or discussed.
"
Visit and Join the WeHeal Sickle Cell Anemia
For more information, see: MayoClinic | Wikipedia
---
WeHeal is very grateful to our valued sources of information which include Wikipedia, WebMD, ClinicalTrials.gov, Cancer.gov, Infoplease, and the US CDC (Center for Disease Control).