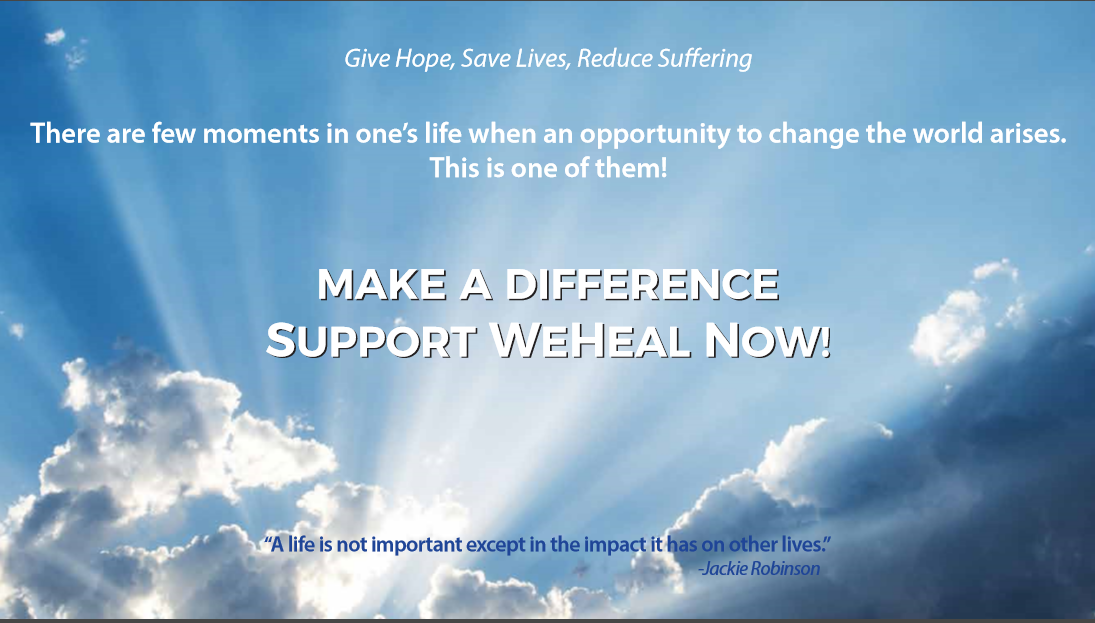 Thank you so much for visiting WeHeal.org! Please help us meet our goal to save 1 million lives in the next 5 years by simply registering on WeHeal to show your support for CrowdHealing!
Please also help us by donating what you can! With your generous contribution today, you will help us advance our mission to Give Hope, Save Lives and Reduce Suffering.
Or send a check or money order to:
Eric Drew Foundation Inc.
PO Box 1949
Los Gatos, CA 95031
Federal Tax ID # 51-0461937
We are a federal 501(c)(3) non-profit, and your tax deductions are 100% tax deductible. See your tax adviser to see how this applies to you.
Volunteer Opportunities
We need lots of help from anyone willing to donate time and resources. We need WordPress and Buddypress savy volunteers, and we need people inviting everyone they know to join them in a community and post valuable information, links, and stories of success or failure with treatment!
Please contact us at info@weheal.org if you would like to volunteer, or have any ideas or suggestions!
Thanks so much!  ERIC DREW
In-Kind Donations
In-kind donations refer to donating items or services.  Donating a car, house, artwork, or other valuable items is very much appreciated and we will work with you to establish the maximum value possible for your donation.  Please contact us if you would like to consider and in-kind donation of any sort.
Estate Planning
Many people include donating to an important cause an integral part of their estate planning.