CrowdHealing is collaborative patient centered care
Weheal uses proven social networking concepts to pioneer a revolutionary CrowdHealing platform, bringing patients, professionals and advocates together in collaborative "think-tank" environments to


facilitate discussion and sharing
Resolve issues facing specific patient communities
Collect and share relevant data with communities enabling educated and informed treatment decisions
Crowdhealing is for everyone. Every human being is confronted with a medical issue at some point in their life.
Approximately 40% of people will be diagnosed with cancer at some point in their lifetime
More than 50% of Americans have a chronic health problem
Approximately 80% of patients use the internet to research their disease
There are frequently updated lists of the deadliest diseases. An list updated in January 2017 from World Health Organization is below. Click to visit the WeHeal information page or community.
10 Deadliest Diseases, World Health Org, updated Jan 2017
Lower Respiratory Infections (Bronchitis, Pnemonia, Flu/influenza)
Trachea, Broncheal, Lung Cancers
Diarrheal Disease
Road Injury
Crowdhealing encourages and facilitates patient engagement and increases Health Literacy
"Both patient engagement and health literacy lead to better outcomes" — National Institute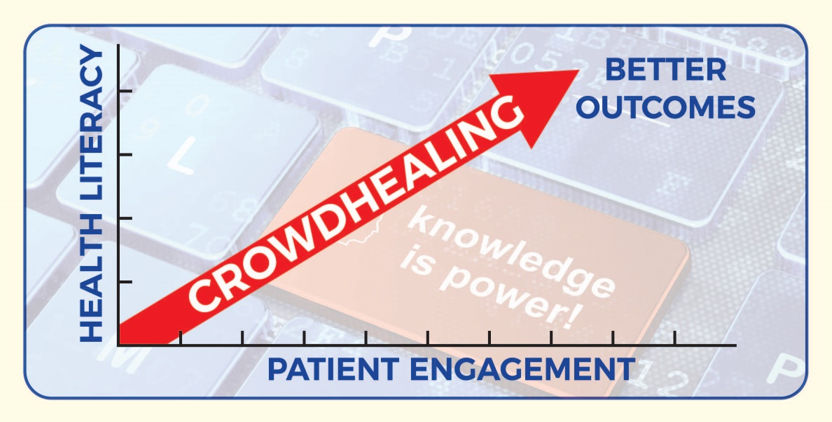 of Health
Crowdhealing levels the playing field
We believe that every patient has the right to equal access to medical information and treatment options
only 12% of adults have proficient health literacy
Minorities & low-income are 27% less likely to participate in clinical trials
88% have poor health literacy led by the less educated, low income, elderly and ethnic minorities