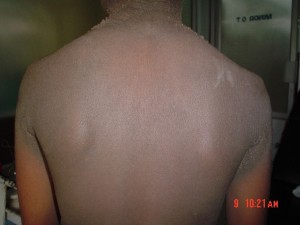 Visit and Join the WeHeal Acanthosis Nigricans Community
Information and References: Mayo Clinic | Wikipedia
Clinical trials: Clinicaltrials.gov | In Clinical Trials | EU Clinical Trials Register | WeHeal Guide to Researching Clinical Trials
Search Clinical Trials
Patient Resources and Related Organizations: American Academy of Dermatology
News and Media: News-Medical.net
This is a skin condition characterized by areas of dark, velvety discoloration in body folds and creases. The affected skin can become thickened and may smell bad. Most often, acanthosis nigricans affects your armpits, groin and neck.These skin changes typically occur in people who are obese or have diabetes. Children who develop the condition are at higher risk of developing type 2 diabetes. More rarely, acanthosis nigricans can be a warning sign of a cancerous tumor in an internal organ, such as the stomach or liver. Is most common in Native Americans, blacks and Hispanics. There's no specific treatment for acanthosis nigricans.
Visit and Join the WeHeal Acanthosis Nigricans Community
---
WeHeal is very grateful to our valued sources of information which include Wikipedia, WebMD, ClinicalTrials.gov, Cancer.gov, Infoplease, and the US CDC (Center for Disease Control).