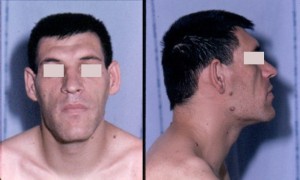 Visit and Join the WeHeal Acromegaly Community.
Information and References: Mayo Clinic | Wikipedia
Clinical trials: Clinicaltrials.gov | In Clinical Trials | EU Clinical Trials Register | WeHeal Guide to Researching Clinical Trials
Search Clinical Trials
Patient Resources and Related Organizations: AcromegalyCommunity.com
News and Media: News-Medical.net
Acromegaly is a rare hormonal disorder that develops when your pituitary gland produces too much growth hormone, nearly always as a result of a noncancerous (benign) tumor. The excess hormone causes swelling, skin thickening, tissue growth and bone enlargement, especially in your face, hands and feet. Usually occurs in adulthood, usually during middle age. In children who are still growing, too much growth hormone can cause a condition called gigantism that leads to an abnormal increase in height as well as excess bone growth.Because acromegaly is uncommon and physical changes occur gradually, it often isn't recognized right away. Although untreated acromegaly can lead to serious illness and premature death.
Visit and Join the WeHeal Acromegaly Community.
---
WeHeal is very grateful to our valued sources of information which include Wikipedia, WebMD, ClinicalTrials.gov, Cancer.gov, Infoplease, and the US CDC (Center for Disease Control).