Visit and Join the WeHeal Black Lung Community.
For more information, see: WebMD | Wikipedia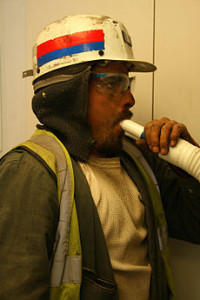 Black Lung. The pneumoconioses are a group of interstitial lung diseases caused by the inhalation of certain dusts and the lung tissue's reaction to the dust. The principal cause of the pneumoconioses is work-place exposure; environmental exposures have rarely given rise to these diseases.
The primary pneumoconioses are asbestosis, silicosis, and coal workers' pneumoconiosis. As their names imply, they are caused by inhalation of asbestos fibers, silica dust, and coal mine dust. Typically, these three diseases take many years to develop and be manifested, although in some cases – silicosis, particularly – rapidly progressive forms can occur after only short periods of intense exposure. When severe, the diseases often lead to lung impairment, disability, and premature death. From a public health perspective, these conditions are entirely man-made, and can be avoided through appropriate dust control.
Other forms of pneumoconioses can be caused by inhaling dusts containing aluminum, antimony, barium, graphite, iron, kaolin, mica, talc, among other dusts. There is also a form called mixed-dust pneumoconiosis. Overall, most physicians do not encounter these diseases very frequently. Byssinosis, caused by exposure to cotton dust, is sometimes included among the pneumoconioses, although its pattern of lung abnormality is different from the pneumoconioses listed here.
Pneumoconiosis Identification and Classification
The pneumoconioses are typically detected in living individuals through the use of radiological imaging. Traditionally this has been the chest x-ray, taken on film, but now increasingly being acquired through digital computer technology. The International Labor Office (ILO) provides guidelinesExternal Web Site Icon for the systematic scientific classification of radiographs of the pneumoconioses. NIOSH operates the B Reader Program whereby physicians can take an examination to document their proficiency in classifying radiographs for various dust-related abnormalities using the ILO guidelines.
Medical Monitoring for the Pneumoconioses
NIOSH operates the Coal Workers' Health Surveillance Program, a worker monitoring program for underground coal miners in the U.S. This program was mandated by the 1969 Federal Coal Mine Health and Safety Act and is intended to prevent coal workers' pneumoconiosis through early detection of disease and voluntary mine transfer to low dust jobs.
Visit and Join the WeHeal Black Lung Community.
For more information, see: WebMD | Wikipedia
---
WeHeal is very grateful to our valued sources of information which include Wikipedia, WebMD, ClinicalTrials.gov, Cancer.gov, Infoplease, and the US CDC (Center for Disease Control).