Burn Patients Information Page
Visit and Join the WeHeal Burn Patients
For more information, see: WebMD | Wikipedia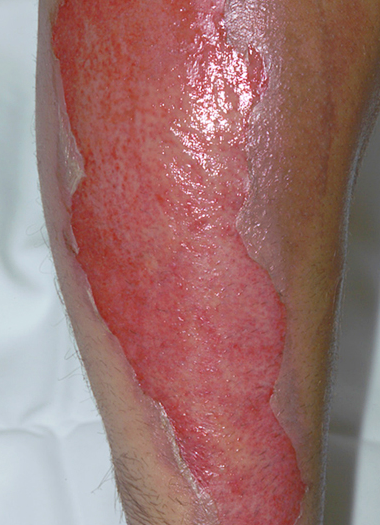 There have been many innovations in the treatment of serious burns since the early 1970's that have greatly improved survival and quality of life for burn patients. There are more than 100 specialized burn treatment centers in the United States. Those centers treat an average of 200 burn patients a year while other hospitals treat an average of less than five burn patients per year. Specialized burn treatment centers and physicians specializing in the treatment of burn patients have the most experience in treating these injuries and ensure the best possible outcome.
Requirements for admission to a burn center
Admission to a specialized burn treatment center depends on a number of factors. However, more than half of all admissions to burn treatment centers are for burns that involve less than 10% of the total body surface area. The American Burn Association recommends that patients who have the following types of burn injuries be referred to a hospital with a specialized burn unit:
1) Partial thickness burns greater than 10% of total body surface area
2) Burns that involve the face, hands, feet, genitalia, or major joints
3) Full thickness burns
4) Electrical burns, including lightning injury
5) Chemical burns
6) Inhalation injury (injury from inhaling smoke or chemicals)
7) Burn injury in patients with medical conditions that could prolong recovery or complicate management
8) Patients with both a burn injury and another injury (such as a fracture) in which the burn injury is the more serious injury
9) Children who are in hospitals without a specialized pediatric unit
10) Patients who will require special social, emotional, or long-term rehabilitation
Click here for a list of burn centers in the United States.
Financial and Legal Assistance
Our financial assistance for burn survivors page has information on sources of money for treatment and potential compensation.
Links to further information
The American Burn Association dedicates its efforts and resources to promoting and supporting burn-related research, education, care, rehabilitation, and prevention.
http://www.ameriburn.org/Links.htm
Visit and Join the WeHeal Burn Patients Community
For more information, see: WebMD | Wikipedia
---
WeHeal is very grateful to our valued sources of information which include Wikipedia, WebMD, ClinicalTrials.gov, Cancer.gov, Infoplease, and the US CDC (Center for Disease Control).