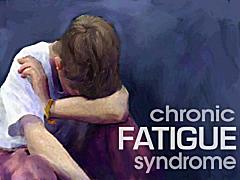 Please Visit and Join the WeHeal Chronic Fatigue Community
Information and References: CDC | Wikipedia | NIH

News and Media: News-Medical.net
Clinical trials: Clinicaltrials.gov | In Clinical Trials | EU Clinical Trials Register | WeHeal Guide to Researching Clinical Trials
Search Clinical Trials
Prolonged fatigue is a self-reported, persistent (constant) fatigue lasting at least one month. Chronic fatigue is a self-reported fatigue lasting at least six consecutive months. Chronic fatigue may be either persistent or relapsing.[19] Chronic fatigue is a symptom of many diseases and conditions. Some major categories of diseases that feature fatigue include:
Autoimmune diseases such as celiac disease, lupus, multiple sclerosis, myasthenia gravis, Sjögren's syndrome, and spondyloarthropathy
Blood disorders such as anemia and hemochromatosis
Cancer, in which case it is called cancer fatigue
Chronic fatigue syndrome (CFS)[20]
Drug abuse including alcohol abuse[20]
Depression and other mental disorders that feature depressed mood
Eating disorders, which can produce fatigue due to inadequate nutrition
Endocrine diseases like diabetes mellitus and hypothyroidism
Fibromyalgia
Gulf War syndrome
Heart disease
HIV
Inborn errors of metabolism such as fructose malabsorption.[21][22]
Infectious diseases such as infectious mononucleosis.
Irritable bowel syndrome
Leukemia or lymphoma
Liver failure
Lyme disease
Neurological disorders such as narcolepsy, Parkinson's disease and post-concussion syndrome
Physical trauma and other pain-causing conditions, such as arthritis
Sleep deprivation or sleep disorders
Spring fever
Stroke
Uremia, which is caused by kidney disease
Fatigue may also be a side effect of certain medications (e.g., lithium salts, ciprofloxacin); beta blockers, which can induce exercise intolerance; and many cancer treatments, particularly chemotherapy and radiotherapy.
Please Visit and Join the WeHeal Chronic Fatigue Community
---
WeHeal is very grateful to our valued sources of information which include Wikipedia, WebMD, ClinicalTrials.gov, Cancer.gov, Infoplease, and the US CDC (Center for Disease Control).