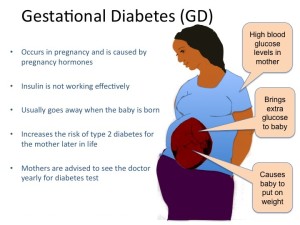 Please Visit and Join the WeHeal Gestational Diabetes Community
Information and References: Wikipedia | WebMd | Mayo Clinic
Patient Resources and Related Organizations: American Diabetes Association | American Pregnancy Association
News and Media: News-Medical.net
Clinical trials: Clinicaltrials.gov | In Clinical Trials | EU Clinical Trials Register | WeHeal Guide to Researching Clinical Trials
Search Clinical Trials
Gestational diabetes also known as gestational diabetes mellitus (GDM), is a condition in which women without previously diagnosed diabetes exhibit high blood glucose (blood sugar) levels during pregnancy (especially during their third trimester). Gestational diabetes is caused by improper insulin responses. This is likely due to pregnancy-related factors such as the presence of human placental lactogen that interferes with susceptible insulin receptors. This in turn causes inappropriately elevated blood sugar levels.
Gestational diabetes generally has few symptoms and it is most commonly diagnosed by screening during pregnancy. Diagnostic tests detect inappropriately high levels of glucose in blood samples. Gestational diabetes affects 3–10% of pregnancies, depending on the population studied. Typically gestational diabetes will disappear after the baby is born.
Please visit and Join the WeHeal Gestational Diabetes Community
---
WeHeal is very grateful to our valued sources of information which include Wikipedia, WebMD, ClinicalTrials.gov, Cancer.gov, Infoplease, and the US CDC (Center for Disease Control).