Hyperthermia Cancer Treatment
Visit and Join the WeHeal Hyperthermia Cancer Treatment Community
For more information, see: Wikipedia | Cancer.gov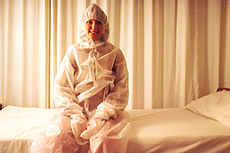 Hyperthermia therapy is a type of medical treatment in which body tissue is exposed to slightly higher temperatures to damage and kill cancer cells or to make cancer cells more sensitive to the effects of radiation and certain anti-cancer drugs. Techniques that may bring local tissues to quite high temperatures, such as radio frequency ablation, are not usually what is meant by "hyperthermia." When combined with radiation therapy, it is called thermoradiotherapy. Whole-body hyperthermia has also been found to be helpful for depression. It is also used in the treatment of Lymes disease.
Local hyperthermia has shown to be effective when combined with chemotherapy or radiation therapy for cancers such as breast, cervical, prostate, head and neck, melanoma, soft-tissue sarcoma and rectal cancer, among others. Whole-body hyperthermia is generally considered to be a promising experimental cancer treatment, but requires close medical monitoring of the patient, as side effects can be serious.
Hyperthermia is considered the "fourth leg" of cancer treatment. It was historically reserved for the most severe or recurrent cases of cancer. However, there is more evidence to support its use as a primary treatment, as is the practice in parts of Europe, including the Netherlands, Germany, and Austria. Regional hyperthermia is currently becoming more utilized in the United States and elsewhere, as devices come to market (e.g. BSD-500, BSD-1000, Celsius42, EHY-2000plus, EHY-3010 ML, EHY-1020 IL, Sonotherm 1000, ThermoChem HT-1000, 8 Medical Hyperthermia Pump, Beaumont Hyperthermia Pump). Whole body hyperthermia, using radiant heat chambers (e.g. Iratherm 2000, Enthermics RHS 7500, Aquatherm, Heckel HT 3000) is almost always used as an adjuvant therapy. The most effective uses are currently being studied. Circulatory means of achieving hyperthermia have been elusive, because of adverse events, but there have been several successful trials. In the United States, Ash used circulatory whole body hyperthermia to treat AIDS, with several studies culminating in an efficacy trial in 1997. AIDS work declined with the advent of modern drug therapy, and this circuit evolved under collaboration with Zwischenberger and Vertrees and a successful phase I study of whole body hyperthermia in metastatic lung cancer in 2004. More recently, Locker published a phase I trial of circulatory WBH for advanced sarcoma in Austria.
Visit and Join the WeHeal Hyperthermia Cancer Treatment Community
For more information, see: Wikipedia | Cancer.gov
---
WeHeal is very grateful to our valued sources of information which include Wikipedia, WebMD, ClinicalTrials.gov, Cancer.gov, Infoplease, and the US CDC (Center for Disease Control).