Visit and Join the WeHeal Kidney Cancer Community
For more information, see: Cancer.gov | Kidneycancer.org | Wikipedia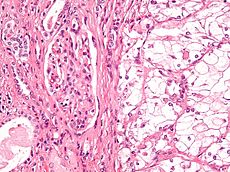 Clinical Trials: Clinicaltrials.gov | In Clinical Trials | EU Clinical Trials Register | WeHeal Guide to Researching Clinical Trials
Search Clinical Trials

Cancer that forms in tissues of the kidneys. Kidney cancer includes renal cell carcinoma (cancer that forms in the lining of very small tubes in the kidney that filter the blood and remove waste products) and renal pelvis carcinoma (cancer that forms in the center of the kidney where urine collects). It also includes Wilms tumor, which is a type of kidney cancer that usually develops in children under the age of 5. Your kidneys are two bean-shaped organs, each about the size of your fist. They're located behind your abdominal organs, with one kidney on each side of your spine.In adults, the most common type of kidney cancer is renal cell carcinoma. Other less common types of kidney cancer can occur. Young children are more likely to develop a kind of kidney cancer called Wilms' tumor.
Visit and Join the WeHeal Kidney Cancer Community
For more information, see: Cancer.gov | Kidneycancer.org | Wikipedia
---
WeHeal is very grateful to our valued sources of information which include Wikipedia, WebMD, ClinicalTrials.gov, Cancer.gov, Infoplease, and the US CDC (Center for Disease Control).