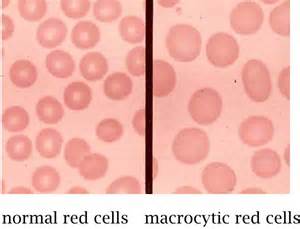 Please visit and join the WeHeal Macrocytosis Community.
Information and References: Mayo Clinic | Wikipedia | Medscape.com | NIH
Patient Resources and Related Organizations: MedHelp.org
News and Media: News-Medical.net
Clinical trials: Clinical trials: Clinicaltrials.gov | EU Clinical Trials Register | WeHeal Guide to Researching Clinical Trials
Search Clinical Trials
Macrocytosis is the enlargement of red blood cells (RBC's) and is defined by a mean corpuscular volume (MVC) of greater than 100 femtoliters (fL). Red blood cells are called erythrocytes. Macrocytosis is a sign of an underlying health condition that can range from benign to malignant and should be looked into further by your health care professional.
Join the WeHeal Macrocytosis Community.
---
WeHeal is very grateful to our valued sources of information which include Wikipedia, WebMD, ClinicalTrials.gov, Cancer.gov, Infoplease, and the US CDC (Center for Disease Control).