Multiple Endocrine Neoplasia Syndromes
Visit and Join the WeHeal Multiple Endocrine Neoplasia Syndromes Community
For more information, see: MayoClinic | Wikipedia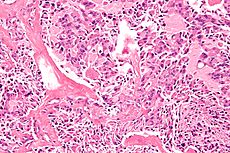 The term multiple endocrine neoplasia (MEN) encompasses several distinct syndromes featuring tumors of endocrine glands, each with its own characteristic pattern. In some cases, the tumors are malignant, in others, benign. Benign or malignant tumors of nonendocrine tissues occur as components of some of these tumor syndromes.
MEN syndromes are inherited as autosomal dominant disorders that affect the endocrine system. The endocrine system is made up of glands and cells that make hormones and release them into the blood. MEN syndromes may cause hyperplasia (the growth of too many normal cells) or tumors that may be benign (not cancer) or malignant (cancer).
Visit and Join the WeHeal Multiple Endocrine Neoplasia Syndromes Community
For more information, see: MayoClinic | Wikipedia
---
WeHeal is very grateful to our valued sources of information which include Wikipedia, WebMD, ClinicalTrials.gov, Cancer.gov, Infoplease, and the US CDC (Center for Disease Control).