Visit and Join the WeHeal Stickler Syndrome Community
For more information, see: MayoClinic | Wikipedia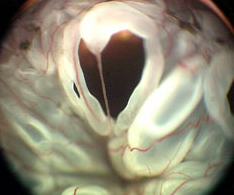 "Stickler syndrome is a genetic disorder that can cause serious vision, hearing and joint problems. Also known as hereditary progressive arthro-ophthalmopathy, Stickler syndrome is usually diagnosed during infancy or childhood.
Children who have Stickler syndrome often have distinctive facial features — prominent eyes, a small nose with a scooped out facial appearance and a receding chin. They are often born with an opening in the roof of the mouth (cleft palate).
While there is no cure for Stickler syndrome, treatments can help control symptoms and prevent complications. In some cases, surgery may be needed to correct some of the physical abnormalities associated with Stickler syndrome."
Visit and Join the WeHeal Stickler syndrome
For more information, see: MayoClinic | Wikipedia
---
WeHeal is very grateful to our valued sources of information which include Wikipedia, WebMD, ClinicalTrials.gov, Cancer.gov, Infoplease, and the US CDC (Center for Disease Control).