Visit and Join the WeHeal Thyroid Cancer Community.
For more information, see: WebMD | Cancer.org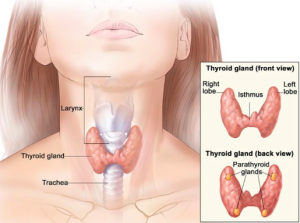 Thyroid cancer is a disease that you get when abnormal cells begin to grow in your thyroid gland. The thyroid gland is shaped like a butterfly and is located in the front of your neck. It makes hormones that regulate the way your body uses energy and that help your body work normally.
Thyroid cancer is an uncommon type of cancer. Most people who have it do very well, because the cancer is usually found early and the treatments work well. After it is treated, thyroid cancer may come back, sometimes many years after treatment.
Experts don't know what causes thyroid cancer. But like other cancers, changes in the DNA of your cells seem to play a role. These DNA changes may include changes that are inherited as well as those that happen as you get older.
People who have been exposed to a lot of radiation have a greater chance of getting thyroid cancer.
A dental X-ray now and then will not increase your chance of getting thyroid cancer. But past radiation treatment of your head, neck, or chest (especially during childhood) can put you at risk of getting thyroid cancer.
Thyroid cancer can cause several symptoms:
You may get a lump or swelling in your neck. This is the most common symptom.
You may have pain in your neck and sometimes in your ears.
You may have trouble swallowing.
You may have trouble breathing or have constant wheezing.
Your voice may be hoarse.
You may have a frequent cough that is not related to a cold.
Some people may not have any symptoms. Their doctors may find a lump or nodule in the neck during a routine physical exam.
If you have a lump in your neck that could be thyroid cancer, your doctor may do a biopsy of your thyroid gland to check for cancer cells. A biopsy is a simple procedure in which a small piece of the thyroid tissue is removed, usually with a needle, and then checked.
Sometimes the results of a biopsy are not clear. In this case, you may need surgery to remove all or part of your thyroid gland before you find out if you have thyroid cancer.
Visit and Join the WeHeal Typhoid Cancer Community.
For more information, see: WebMD | Cancer.org
---
WeHeal is very grateful to our valued sources of information which include Wikipedia, WebMD, ClinicalTrials.gov, Cancer.gov, Infoplease, and the US CDC (Center for Disease Control).