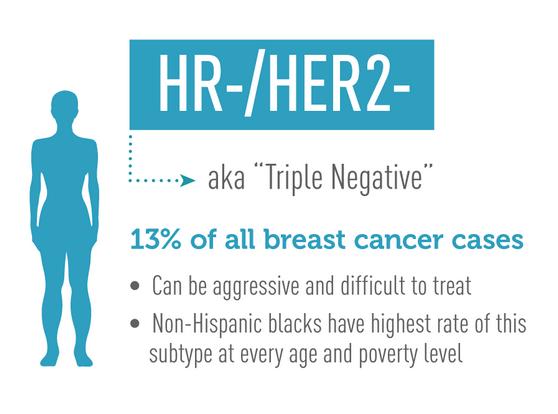 Please Visit and Join the WeHeal Triple Negative Breast Cancer Community
Information and References: CDC | Wikipedia | pubmed.gov
Patient Resources and Related Organizations: Triple Negative Breast Cancer Foundation
News and Media: News-Medical.net
Clinical trials: Clinicaltrials.gov | In Clinical Trials | EU Clinical Trials Register | WeHeal Guide to Researching Clinical Trials
Search Clinical Trials
Triple-negative breast cancer (sometimes abbreviated TNBC) refers to any breast cancer that does not express the genes for estrogen receptor (ER), progesterone receptor (PR) or Her2/neu.[1] This makes it more difficult to treat since most chemotherapies target one of the three receptors, so triple-negative cancers often require combination therapies. Triple negative is sometimes used as a surrogate term for basal-like; however, more detailed classification may provide better guidance for treatment and better estimates for prognosis.[2]
Triple-negative breast cancers comprise a very heterogeneous group of cancers. There are conflicting information over prognosis for the various subtypes but it appears that the Nottingham prognostic index is valid and hence general prognosis is rather similar with other breast cancer of same stage, except that more aggressive treatment is required.[3] Some types of triple-negative breast cancer are known to be more aggressive with poor prognosis, while other types have very similar or better prognosis than hormone receptor positive breast cancers.[4] Pooled data of all triple-negative subtypes suggest that with optimal treatment 20-year survival rates are very close to those of hormone positive cancer.[2]
Please Visit and Join the WeHeal Triple Negative Breast Cancer Community
---
WeHeal is very grateful to our valued sources of information which include Wikipedia, WebMD, ClinicalTrials.gov, Cancer.gov, Infoplease, and the US CDC (Center for Disease Control).