Generalized Anxiety Disorder
Visit and Join the WeHeal Generalized Anxiety Disorder Community
For more information, see: NIH | Wikipedia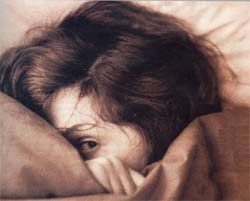 "I always thought I was just a worrier. I'd feel keyed up and unable to relax. At times it would come and go, and at times it would be constant. It could go on for days. I'd worry about what I was going to fix for a dinner party, or what would be a great present for somebody. I just couldn't let something go."
"I'd have terrible sleeping problems. There were times I'd wake up wired in the middle of the night. I had trouble concentrating, even reading the newspaper or a novel. Sometimes I'd feel a little lightheaded. My heart would race or pound. And that would make me worry more. I was always imagining things were worse than they really were. When I got a stomachache, I'd think it was an ulcer."
"I was worried all the time about everything. It didn't matter that there were no signs of problems, I just got upset. I was having trouble falling asleep at night, and I couldn't keep my mind focused at work. I felt angry at my family all the time."
All of us worry about things like health, money, or family problems. But people with generalized anxiety disorder (GAD) are extremely worried about these and many other things, even when there is little or no reason to worry about them. They are very anxious about just getting through the day. They think things will always go badly. At times, worrying keeps people with GAD from doing everyday tasks.
Visit and Join the WeHeal Generalized Anxiety Disorder Community
For more information, see: NIH | Wikipedia
---
WeHeal is very grateful to our valued sources of information which include Wikipedia, WebMD, ClinicalTrials.gov, Cancer.gov, Infoplease, and the US CDC (Center for Disease Control).