Visit and Join the WeHeal Pneumonia Community
For more information, see: MayoClinic | Wikipedia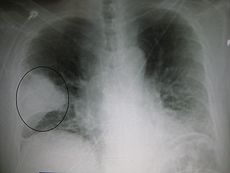 Pneumonia has many possible causes, but it is usually an infection of the streptococcus or mycoplasma bacteria. These bacteria can live in the human body without causing infection for years, and only surface when another illness has lowered the person's immunity to disease. Streptococcus pneumoniae causes streptococcal pneumonia, the most common kind, which is more severe than mycoplasmal pneumonia. S. pneumoniae is responsible for more than 100,000 hospitalizations for pneumonia annually, as well as 6 million cases of otitis media and over 60,000 cases of invasive diseases such as meningitis.
Visit and Join the WeHeal Pneumonia Community
For more information, see: MayoClinic | Wikipedia
---
WeHeal is very grateful to our valued sources of information which include Wikipedia, WebMD, ClinicalTrials.gov, Cancer.gov, Infoplease, and the US CDC (Center for Disease Control).